(FILM) ART APPRECIATION
by Michael Chasin
Great paintings, although static, are enjoyed hour after hour, year after year.
Why?
Each viewing is an opportunity to change focus—from brush strokes to colors to composition or to allegory—yielding revised meaning—and appreciation—of the work.
Great films can also be so appreciated—as after the first viewing, with the narrative known, focus can shift to other artful elements of the film.
In Rumble Fish, Diane Lane says in close-up, "I love you," to departing boyfriend Matt Dillon—with the next image a close-up of Nicolas Cage.
After the first viewing, we know she leaves Dillon for Cage—so in subsequent viewings—we appreciate that foreshadowing edit.
The Casino montage of Robert De Niro falling for—and under the spell of—Sharon Stone—is accompanied by the song Love is a Drug.
After the first viewing, we know she's a part of De Niro's downfall—so we can appreciate that soundtrack selection—as well as others in the film.
Chinatown's detective Jack Nicholson is trying to solve the case—so all ground floor windows were raised—making it more difficult for him to see in.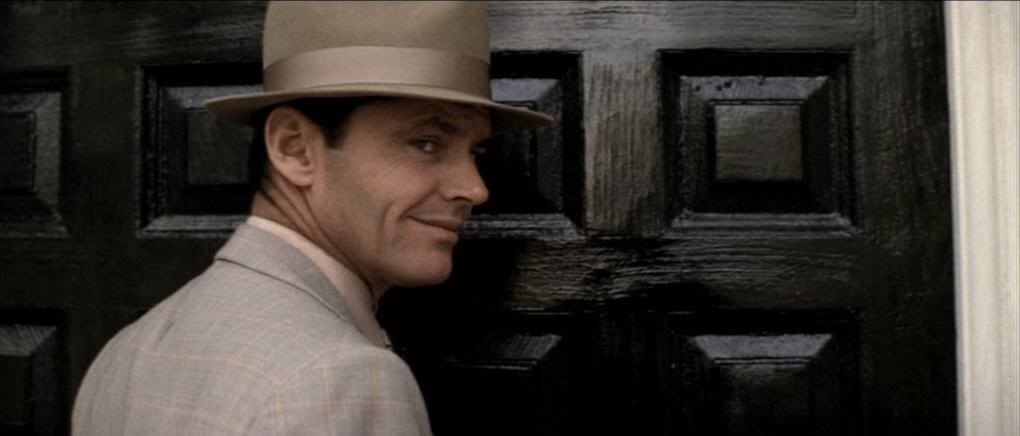 This inventive production design—is something to appreciate in new viewings.
In The Cooler, William H. Macy's luck is so bad he 'cools down' casino winners by slight touch.
In the film, his same suit sizes from too big to correct to dapper snug—dramatizing his change from loser to winner.
This wardrobe transition can be enjoyed in viewing after viewing.
In Serpico, director Sidney Lumet staged honest cop Frank Serpico (Al Pacino) outside of big, overpowering buildings.
These locations were used to dramatize his singular battle against institutional corruption—artful location selection to be appreciated in later viewings.
So construct your film as an artist does a painting—using all of the storytelling tools—so that it will be newly appreciated—viewing after viewing.
Photos: tursweet.com, www.thelistlove.com, forummafieuso.free.fr, cinemalacrum.blogspot.com,