POSTER, THEN PRODUCTION
by Michael Chasin
The sole purpose of a movie poster—is to sell tickets.
Great posters—like great ads—don't have words.
They instead communicate the central concept of a movie—in an image.
A puppeteer controlling the world around him—The Godfather.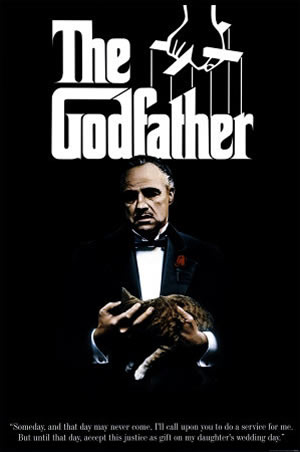 A vicious, teeth-baring shark aimed for an innocent swimmer—Jaws.
An exhausted soldier with arms stretched above—Platoon.
Titanic—the 2nd highest grosser of all time—had on its poster—Leonardo DiCaprio and Kate Winslet embracing against the harsh elements.
The central story was not the disaster—but their love story—set against the disaster.
It was their love story that moved audiences to make it a financial success—not the historical retelling of the sinking.
Therefore, in pitch meetings it is often stated—what's the poster?
If the decision makers can't identify a core story—as an image to market the movie—they know their odds of financial return are greatly diminished.
Ensemble movies—with large casts, each with smaller parts—although not always—usually don't do well.
Their posters picture the entire cast—without a central hero to root for—which is the element that makes movies work.
So, even before writing your script—visualize the movie's poster.
If you can't find a poster image—re-examine your concept.
Post-production—after having already given blood, sweat, and much money—is not the time to try to find your movie's selling point.
Remember—poster, then production.
Photos: tumblr.com, iceposter.com, impawards.com, pastemagazine.com, wikimedia.org