Respinning VERTIGO – IAFT Movie Reviews
If Rear Window (1954) tells us the most about Alfred Hitchcock as a director, and Notorious (1946) tells us the most about him as a craftsman, then Vertigo (1958) tells us the most about Hitchcock as a man.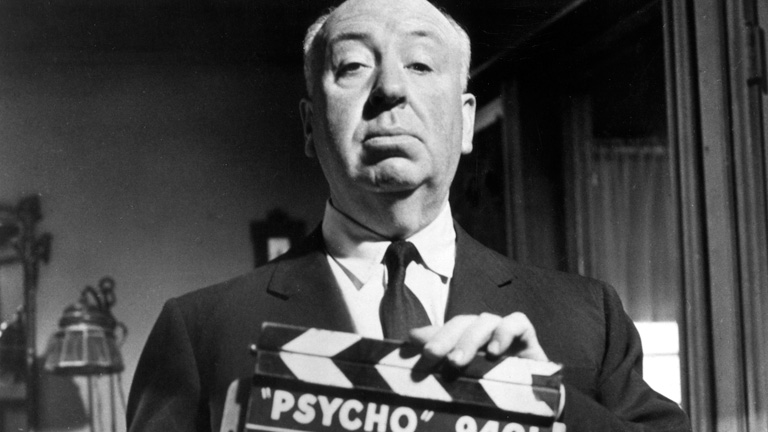 If you have any familiarity with his body of work or his personal life, you'll feel much insight into his personal obsessions and emotions after watching this movie.
Where so many of his other films are polished, Vertigo is unafraid to be messy—to leave questions unanswered and journeys unfinished.  It's the ultimate Hitchcock film, but also his most atypical.
The story opens with a riveting chase sequence over the roofs of San Francisco.  Scottie Ferguson (James Stewart, in a remarkable performance) almost tumbles over the edge of a building and, because he is crippled with dizziness, accidentally allows his partner to fall to his death.
This is the first time in history we see the much-imitated vertigo effect that has been used countless times since then (camera pulls back and zooms in at the same time, or vice versa). It still works.
An old friend hires Scottie, now retired, to follow his wife Madeline, because she disappears for hours at a time, both physically and mentally.  There are undertones that Madeline is possessed by the ghost of an ancestor who committed suicide when she was young.
Scottie becomes madly obsessed with Madeline, and they seem to fall for each other…until she—well, I won't tell you exactly, since I don't want to spoil the movie for you.  Suffice it to say, it's a big change in the storyline.
Up until this point, halfway through the picture, Vertigo could be like any other Hitchcock movie, but then the really interesting stuff starts.  Scottie has a nervous breakdown and, after recovering enough to be let out of an asylum, spies a woman named Judy who resembles Madeline in an odd way, and the obsession begins again.
You can't watch this movie without thinking of Hitchcock's blondes.  Grace Kelly was his ultimate blonde—she did three films with him [Rear Window (1954), Dial M For Murder (1954), To Catch a Thief (1955)]—and in a way every other actress who came after her [Kim Novak here, Tippi Hedren (The Birds, 1963) , Eva Marie Saint (North by Northwest, 1959), Vera Miles (Psycho, 1960), Doris Day (The Man who Knew Too Much, 1956), Barbara Harris (Family Plot, 1976)…phew, I'm sure I forgot someone] was groomed specifically to be some version of Kelly.
Scottie's devastated lines to Judy in the final scene in Vertigo seem especially apt:
"Did he train you!? Did he rehearse you!? Did he tell you what to do and what to say!?"
If that line works on a macro level concerning the Master director's obsessions—without revealing too much—it is also perhaps the most emotionally raw and unhinged we see of any of Hitchcock's heroes.  Scottie screams these lines in rage, but he might as well be screaming them at himself—he has, in essence, become the same monster he demeans.
Here's what Martin Scorsese has to say about this movie:
"Vertigo stands alone as a Hollywood film.  For such a personal work with such a uniquely disturbing vision of the world to come out of the studio system when it did was not just unusual, it was nearly unthinkable… Vertigo is essential to me because it has a hero driven purely by obsession.  Morality, decency, kindness, intelligence, wisdom—all the qualities we think heroes are supposed to possess—desert this character little by little, until he is left alone on that church tower with the bells tolling behind him and nothing to show but his humanity.
"Vertigo's extraordinary visual precision cuts to the soul of its characters like a razor.  Its many mysteries and moments of subtle poetry include its unsettling and exquisite use of color, its extraordinary performances, its astonishing title sequence, and its tragically beautiful score [by Bernard Herrmann], absolutely indispensable to the spirit, the functioning and the power of Vertigo."
If you haven't seen it, know that Vertigo is one of those movies that has great ideas and emotional depth, but it's imperfect. And yet the atypical, powerful third act more than makes up for any deficiencies.
Writers: Alec Coppel, Samuel Taylor (screenplay), Pierre Boileau, Thomas Narcejac (novel)
Director: Alfred Hitchcock
Actors: James Stewart, Kim Novak, Barbara Bel Geddes, Tom Helmore, Henry Jones, Raymond Bailey, Ellen Corby, Fred Graham
Photos: yaplakal.com, erikotsogo.wordpress.com